David Flynn's

Anorak's Corner

Tonight's "first" anniversary is being held in November, just over a year after moving to the Dome and nearly two years after the first do in Shoreditch. Nobody ever said the Capitol boys were conventional. The club has already built up a reputation for inviting the cream of soul d.j's playing the latest top rare soul tunes and tonight Shifty, the Dome's first guest, returned with his box of magic tunes. I don't think there was a spare inch left on the dance floor for his entire set. It's hard to say who is more up for it, the jocks or the crowd. Each and every chance to clap along with a stomper is taken, bringing back memories of when I first started going to soul clubs way back in the seventies. The untapped enthusiasm every track is greeted with only adds to the incredible atmosphere which keeps people looking forward to the next one the minute they have to leave It is no wonder people keep coming back to the Dome from all over the U.K. Europe and even the States.

Within an hour the club was jumping. Even the sight of Trickster doing his stuff wearing ballet shoes, couldn't stop the floor filling up, and basically staying that way for the whole evening. All the jocks played to a packed floor by sticking to the sounds that have become favourites over the past year or so. (The play lists for tonight are on another part of this website.) Some of these sounds are exclusive to the club, so that means if you want to get to hear these top quality sounds you have to get down to the Dome. That is of course if you weren't one of the lucky ones to receive a free tape.

The law of averages says that eventually there is going to have to be a below par evening. But if the Capitol boys carry on going the way they are, this soul night is not only going to be the best current soul night (which I think it already is!), but could soon start pushing some of the legendary soul nights of yesteryear. Every time I visit the Dome I can't help thinking that tonight can't be as good as the last time. Of course it always is, but tonight was the best yet. Soul nights rarely capture the excitement of the getting ready and the traveling up motorways that all-nighters bring, but Capitol seems to transcend the difference between the soul night and all-nighter.

Maybe in the years to come, people will look back at Capitol in a similar way to that of the "Blackpool Mecca", where even though it isn't an all-nighter, it will be thought of with the same kind of affection and respect that all-nighters command. If you are unlucky enough not to have made it along to Capitol yet, do so as soon as you can, but I warn you you'll go home covered in bruises, because you will spend most of the night kicking yourself for not having made the effort before.

Mike Gibbs

Co-editor of the "Soul About Town" monthly listings of Southern based Soul events

Hanging around in the drizzling rain before the Dome started, (I really wanted the tape and key-rings) I got to thinking, why is this venue so consistently good, what has made it become so special in such a short space of time.  Ultimately it has got to be down to the hard work of the regular DJs and one Matt Jahans promoter extraordinaire.  Matt just seems inexhaustible, forever on the move, chatting to all and sundry, extolling the virtues of the northern scene to anyone who'll listen.  You cannot help but be impressed and infected by his enthusiasm and verve and it's so bloody

contagious.  Matt's ebullience is matched by the regular DJ team of, David Flynn, Alan Handscombe, Carl Fortnum and "Irish Greg."  They are all responsible for consistently producing fantastic sets, which are a pleasure to dance to, surely the main criteria for every soulie.

Every time I have visited the Dome I have been reminded that there is life within the soul scene, outside of the major venues up north.  Obviously they run on different lines, the DJs and the patrons of the venues in the north of England are mainly into a nostalgia trip, which is fine and good at the moment, but cannot last forever.  The Dome is much more "cutting edge" IMO, playing fresh music, to a mainly fresh audience, although quite a number of people travel from other parts of the country (even abroad) to sample it's musical fare.  I think it's fair to say that the Dome is creating a niche for itself and will eventually be regarded as one of the venues that was instrumental in the progression of the Northern/Rare soul scene.

After getting through the club's new improved security system, I made my way upstairs and upon reaching the top, received my free tape, (really nicely packaged) and key ring.  I was in the first 20 to go in and as I walked up the stairs, and into the hall, people were already on the dance-floor. ......As usual tonight there was a number of KTF'ers present.  Martin Thomson, Katrina, Simon B, Janine, Flynny and Matt, Andy F, Mike Hughes and Mike Humphreys, Michelle and Carmen.   Who along with this most "up for it" of crowds was enjoying tonight's selections from the regular DJs, with the added bonus of Shifty to come later.

Within half an hour the floor was full, which is always a pleasure to see, the DJs were constantly pumping out the sounds and as they say the joint was jumping.  I know that some think that southern venues are not as friendly as

Northern ones, but this is definitely not the case here, everybody mixes, young, old, people from all points of the compass.  Everyone has arrived for the same reason, a high quality night and the whole thing gels perfectly in my opinion.  From a personal view point, I spent over 5 hours dancing, and in my enforced rest periods, laughing and chatting with friends old and new.   I can't think of a better way to spend an evening, stimulation both physical and mental, what more could anyone ask?

The night sped by, I remember making my first change of shirt at midnight, (always a good idea to take a change of shirts, because the heat and energy of the Dome has to be experienced to be believed) and my second about 2 a.m.

To borrow teenage vernacular, it really was "kicking" tonight, new and underplayed oldies, were mixed with all time classics, and all were treated with equal respect, by a knowledgeable crowd.

All in all I would say that the Dome has become the best soul night in the country, certainly the best one that I have visited anyway, tonight around 400 souls would probably attest to that fact.  There were a number of people in attendance, who are regular venue goers (in my local area) at the Dome tonight. (Around 30)  All came to the same conclusion, the Capitol Soul Club put on a night that is not to be missed, in truth I haven't heard one criticism of the night, apart from the fact that it could do with going on longer.  So Matt get around the negotiating table and deliver the Dome's first nighter. :-)

The next night is the Christmas bash on the 8th of December, so if you haven't been before, treat yourself to an early Xmas present, you won't be disappointed.  If you have been to the Dome before...well see you on the eighth. :-)

Winston Heath

Midlands

IRISH GREG:

Judy Freeman - Hold on - UNISSUED LP VERSION

Hy-Tones - You don't even know my name - SOUTHERN ARTISTS

Arthur Freeman - You've got me uptight - JUMBO

Gene Toones - What more do you want - SIMCO

New wanderers - Ain't gonna do you no harm - READY

Curly Moore - You don't mean - SANSU

Lonnie Russ - say girl - KERWOOD

Charles sheffield - It's your voodoo working - EXCELLO

Willie Jones - Where's my money - Mr.

Peacock Sonatas - Going down the road - HOT LINE

Lilly Fields - I've got to tell you - HOLTON

Shamettes - Don't waste your time - GOLD DUST

Duke Baxter - Don't let it down - C/UP

Anita Anderson - A lil bit longer - CONTACT

Little Ann - Who are you trying to fool - KENT

Danny Moore - Somebody new - ALLRITE

John & The Wierdest - Can't get over these memories - TIE

Peppermint Harris - Wait until it happens to you - JEWEL

Ty Karim - You really made it good - ROMARK

Perk Lee - The docks - BOSS

Jimmie Reed Jnr - I ain't going nowhere - MERCURY

Luther Ingram - If its all the same - HIB

Cliff Nobles - My love is getting stronger - ATLANTIC

Nolan Porter-If I could be sure - ABC

Helen Troy - I think I love you - KAPP

Jimmy Ricks - Oh what a feeling - FESTIVAL

CARL FORTNUM:

Two People - Stop leave my heart alone - REVUE

Bobby Moore - Chained to your heart - CHECKER

William Powell - Heartache souvenirs - POWERHOUSE

Ty Karim - You just don't know - ROMARK

Clarence Reid - I'm your yes man - WAND

Esther Grant - Lets make the most out of love - WILSTONE

Bobby Bland - Shoes - DUKE

Oriolos - I ain't got time - OM

Maximillian - You'd better - MAGIC CIRCLE

Steve Mancha - Friday night - GROOVESVILLE

Jimmy Andrews - Big city playboy - BLUE JAY

Chuck Holiday - Just can't trust nobody - GLORIA

Cody Black - It's our time to fall in love - GIG

Louie Palmer - Don't leave me - BOOTHEEL

Tomangos - I really love you - WASHPAN

Leonard Jewell - Bettin' on love - TERI-DE

Cyde McPhatter - Give me one more chance - DECCA LP

Vikki Andero - Crook his little finger - CREAM

Jimmy & The Sundials - Where did i lose you - TEST PRESSING

Rodd Keith & Raindrops - And the lord said - PREVIEW

DAVID FLYNN:

Hyperions - Why You Wanna Treat Me... - CHATTAHOOCHEE

Tommy Frontera - (You're My) Leading Lady - HI-LITE

Shawn Robinson - My Dear Heart - MINIT

Toni Basil - Breakaway -  A & M

Robert "Redtop" Young - Your Future - SOULSATIONS

James Wesley Smith - Talkin' 'Bout Women - ANGEL TOWN

Dave Charles - Ain't Gonna Cry No More - DONNIE

Jack Montgomery - Do You Believe It - SCEPTER

Ivorys - Please Stay - DESPENZA

Linda & Pretenders - Believe Me - ASSAULT

Van Dykes - Save My Love For A Rainy Day - MALA

September Jones - I'm With You - UNISSUED PIED PIPER

Andrea Henry - I Need You Like A Baby - M.G.M.

Troy Dodds - Try My Love - EL CAMINO

Brenda Holloway - I'm On The Right Track - UNISSUED MOTOWN

Gloria Jones - Come And Go With Me - UPTOWN

Carl Underwood - Ain't You Lying - MERGING

Sidney Barnes - Safety Zone - JOBETE ACETATE

Charades - The Key To My Happiness - M.G.M.

Johnny Maestro & Crests - I'm Stepping Out Of The Picture - SCEPTER

(second set)

Benny Spellman - This Ones For You My Love - ALON

Doris Smith - No Good Guy - LIMELIGHT

Fran Oliver - Searchin' For My Man - C/UP

Precisions - Such Misery - UNISSUED DREW

Deadbeats - No Second Chance - STRATA

Soul Inc. Feat.Cecil Washington - My Proposal - COCONUT GROOVE

September Jones - Give Me All Of Your Love - UNISSUED PIED PIPER

Barbara Mercer - Give Me Another Chance (My Dear) - UNISSUED

Epitome Of Sound - You Don't Love Me - SANDBAG

Supremes - Love Is Like An Itching In My Heart - MOTOWN

Yvonne Baker - You Didn't Say A Word - PARKWAY

Bobby Reed - The Time Is Right For Love - BELL

ALAN H:

Rochelle Johnson - Gypsy ways - SWAN

Paul Guitar Red Johnson - pretty eyed baby - CHECKER

Ike & Tina Turner - Wake up - SUE

Rosalind Madison - Neighbourhood girl - LIBERTY

The Halos - Just keep on loving me - CONGRESS

Barbara Redd - I'll be all alone - SPQR

Eskew Reeder - Undivided love - INSTANT

Yvonne Carroll - Please don't go - VEEJAY

Cookie Jackson - Love brings pain - UPTOWN

The Stoppers - Come back baby - JUBILEE

The Four Arts - Who do you think you are - SHEE

The Adlibs - Think of me - KAREN

Gladys - Sweet delight - OGEE

The Isonics - Sugar - KAMMY

Bill Johnson - It aint never gonna die - JOCIDA

The Lovables - You cant dress up a broken heart - TOOT

Carolyn Crawford - Forget about me - MOTOWN

Johnny Gilliam - Find yourself another - BO MAR

Blue Jays - Point of view - JAY

(second set)

Peppermint Harris - Wait untill it happens to you - JEWEL

Lacharles Mccoy - Hello blues - AMC

Delores Clark - Livin to please - ANTARES

Helen Troy - I think i love you - KAPP

Allen Sisters - I'm in with the downtown crowd - QUALITY

The El Corols - Chick chick - ROUSER

The Tears - What you doing to me - SMASH

Don & Ron - I'm so so sorry - WHITE CLIFFS

Mousie & Traps - How about you - TODDLIN TOWN

Mickie Champion - What good am I - MUSETTE

SHIFTY:

Joe Matthews - Ain't nothing you can do - KOOL KAT

Jades - I'm where its at - NITE LIFE

Masquaders - It's the same thing - SOULTOWN

Joanie Somers - Don't pity me - WARNER BROS

Timmie Williams - Competition - MALA

Royal Playboys - Arabia - DO DE

Eric Mercury - Lonely girl - SAC

Jimmy Burns - I really love you - ERICA

Inmates - This is our day - KOPIT

Yum Yums - Gonna be a big thing - ABC

Flash Mc Kinley - I'll rescue you - BOMBAY

Empires - You're on top girl - CANDI

Mello Soul - We can make it - MELLO

Walter & The Admirations - Man oh man - LA CINDY

Tangeers - Let my heart and soul be free - OKEH

Jackie Wilson - Because of you - BRUNSWICK

Lavern Baker - I'm the one to do it - BRUNSWICK

Gwen Owens - Just say you're wanted - VELGO

Jimmy Bo Horne - I just can't speak - DADE

Edwin Star - Scotts on swingers - RIC TIC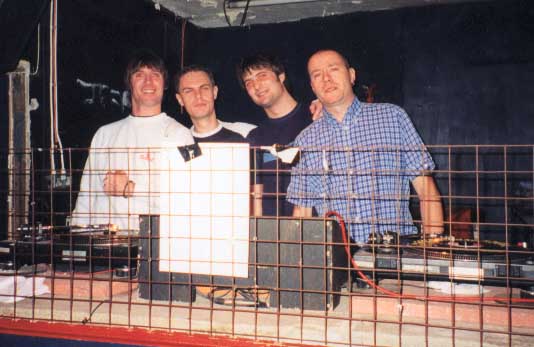 ABOVE:

Kept firmly behind the caged DJ booth, here are four members of the CSC at the 1st Anniversary in November 2000, from L to R - Greg, David, Matt and Alan...Carl was taking the picture!